Why WordPress?
In today's time, when the internet became widely spread and had even made it to the farthest corners of the world, the need for presenting business, ideas or even personalities on the internet became usual. With the appearance of phones and with great distribution of WiFi and 3-4G network, with internet content being transferred from computers to phones, from residential and office space to the street, to public transport, at any time and anywhere, that need for presenting became necessary.
There are many applications on the internet that can help the average (and experienced) internet user. Facebook, YouTube and Instagram are certainly the most famous ones, however there are many more besides those mentioned above.
Only a few clicks are enough for you to make a Facebook or Instagram page where you can present yourself, your organization or your idea, and anyone within your country or worldwide can see you at any time and anyplace
But is that really the way it is?
For example, let's say you opened a shoe store. That store can exist as a business with a premise, but it can also exist as an online shop where you have shoes that you only want to sell over the internet. There is also the possibility of you not having the store nor the products, but you still want to be able to sell them successfully. Yes that is also possible. Such internet stores are known as affiliate or dropshipping.
No matter which version of the shop you decided on, the first thing that comes to your mind is opening a Facebook page. And in approximately ten minutes you can create a Facebook page and start with self-promoting, what type of shoes you sell, the prices etc.
Even if Facebook is an amazing platform that is used by a huge number of people around the world, it does have a flaw. And that is exactly how largely Facebook is world spread. There are currently over two million open Facebook accounts. The chances of someone finding your internet shop, that's not your family member, is close to zero. This is because your new page has no parameters to separate it from other more or less visited pages.
There are many techniques that can be used to enhance the number of followers on Facebook. Some are just too expensive, you would get the followers but would go bankrupt. It also may take a long time to get people interested in your page amongst millions of others. We are not talking about only waiting for a few days, we are talking about waiting for years….
So, Facebook isn't an option?
Of course, it's an option, but only if it's used wisely, more as a helping rather than the main tool for promotion!
Aside from all the obstacles mentioned above, it needs to be held in mind that Facebook is not a public good, but a private company, that can for some reason, at any given moment, delete your account. For example, your neighbor (or completion) that sells the same product can report you for writing something that is against the Facebook policy, which can automatically cause your account to be shut down. Even if you would eventually get your account back, it would take time, and something like that could always happen again.
Security is also an issue. If someone manages to steal your phone, without having any security system, your Facebook page could easily be lost and your long-lasting effort could disappear in just a few minutes!
Information written above does not only apply to Facebook, it also applies to Instagram, YouTube, Pinterest and others.
If you decided to use the Facebook promotion only, then GOOD LUCK!!
However if you did manage to understand all the risks you may find something useful in the following paragraphs
We touched on the three main problems (maybe not the only ones): property, security and the impossibility of having a large number of visitors.
Aside from open web applications, like Facebook for example, there is another way that you could self-promote on the internet, and that is owning a web (internet) page.
To be able to open your personal internet page you need domain and hosting.
Domain
A domain is a unique identification number of your internet (web) page, something similar to your address or your JMBG-number. Two same domains could not exist, each one is unique. An example of a domain is this web page from where you are reading this text – artlogika.com
Hosting
Hosting is a physical place where your web page will be held. These are hard drives (computers, i.e. servers ) that have installed programs that allow you to connect your domain to the web page you have created. If the domain of artlogika.com is the address than hosting would be a house or an apartment located at that address.
Domain and hosting are usually purchased from specialized firms that sell domains and hosting, but free domains and hosting could also be found. The ones you pay for are naturally and incomparably better in every way, because free domains and hosting are not your property, and could be taken away like Facebook at any time. Free ones can be used for testing, for a presentation that is to be seen by the whole world- NO!
You've acquired the domain and hosting, what's next?
We will assume that you already prepared a logo, photographs, video materials, news and text that you want to publish. You want to make your own web presence,i.e. internet page! Pages can be made as plain static pages (something similar to the Word application for writing text) or through some page management system. Static pages are nowadays usually not made unless you are 100% sure you know what you are doing. If you do know how to do everything you need to, I'm guessing you didn't even make it to this part of the paragraph.
So, you need a system that will allow you to put all of your content on specific pages, and to do it easily and quickly, even without too much knowledge from programming.
Content Management System
Admin Panel or a cPanel can be found at the place where you bought your hosting, where you will be able to (if the hosting is good) install one of those systems for controlling the web pages. Those systems are called Content Management System, or in translation System for controlling (internet) content.
There are over a thousand of those systems. Each of them has its own pros and cons. Some are specifically made for a small number of pages, while some are made for huge systems with over a hundred thousand web pages (on one domain).
There are over a thousand of those systems. Each of them has their own pros and cons. Some are specifically made for a small number of pages,while some are made for huge systems with over a hundred thousand web pages (on one domain).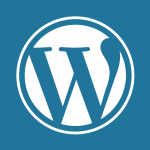 And, how to choose?
If we look at the INDEPENDENT statistics from 2018/19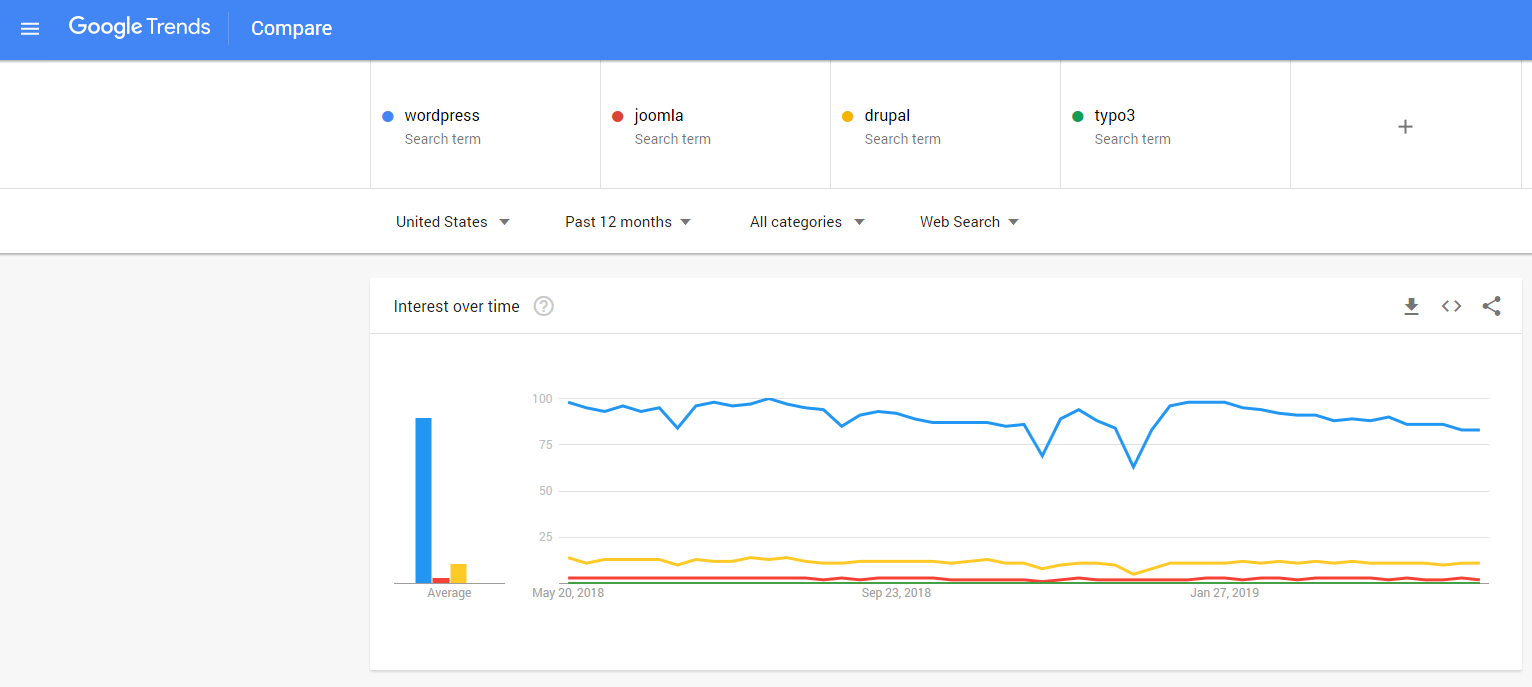 We can conclude that the WordPress is convincingly the most commonly used word on the internet search engine. It's even 10 times more represented than the other famous CMS systems. From all of the other webpages in the world, WordPress convincingly has the most pages made.
CMS
Number
of websites
WordPress
ca.
18 million
Adobe
Dreamweaver
ca.
2.7 million
Joomla!
ca.
2.5 million
Blogger
ca.
830,000
Drupal
ca.
772,000
TYPO3
ca.
425,000
Shopify
ca.
282,000
Magento
ca.
272,000
PrestaShop
ca.
263,000
Brix
ca.
151,000
The huge popularity of WordPress is not at all coincidental. Internet market is one of the most flexible but at the same time one of the most democratic markets in the world. No one can make you use some internet products, not even WordPress if it doesn't have better (or much better) characteristics in relation to the competition.
What's the difference between wordpress.org and wordpress.com?
If you search the internet, you will see that two major websites related to WordPress pop up. WordPress.org and WordPress.com. Then what's the difference?
Remember how we talked about hosting? Well that's the main difference. While WordPress.org gives you CMS that you can use to install on your hosting, WordPress.com gives you hosting. The free version also gives you their domain, for example artlogika.wordpress.com. Meanwhile the paid version allows you to have your own domain unrelated to wordpress.com platform.
You can use WordPress.com for less demanding sites both in content and in terms of appearance. Let's say you want a simple blog, wordpress.com is a good platform for that. But for a serious website, even if that web page only had one page, wordpress.com is not a good solution.
WordPress plug-ins and advanced themes are only available in the most expensive WordPress packages. No type of SEO is provided and you are constantly followed by adds from wordpress.com. But the most important thing is that we don't have any control over back-end files that allow us to make excellent WordPress platforms.
There are no theoretical possibilities for us to make the same type of a page we made on WordPress.org on WordPress.com. WordPress.com is limited, even for the paid version, meanwhile, for WordPress.org those types of constraints do not exist.
Wordpress.org has NO LIMITATIONS in the sense of the technical feasibility of a website.
WordPress.org is what we are interested in!
Install WordPress in short steps
If you already linked hosting and domain, it's time to install WordPress. Nowadays it's usually done over hosting which allows you to install WordPress in cPanel over one program. You can read on how to install WordPress here on Bluehost.com
Sometimes it's done by hand on weaker hostings, on local housing machines for testing, or professional VPS/Dedicated hostings. For example, through the XAMPP system on local computers, the installation principle is described here very well..
Installing the theme
After you've installed WordPress and got into its admin panel, it's time for you to make your own theme. That can be done in three ways:
By installing an already existing theme that came with WordPress
By installing a theme you bought or got for free
By programming your personal WordPress theme
In any case, the installation is done through Appearance – Themes – Add new, or you can choose between one of the offered ones.
For the end
I hope we made you interested in the CMS WordPress system. As you have already seen it's not that hard to make a basic website. Of course a basic website is far from a professional website, that needs to bring you a great deal of interest, and that means the popularity of the page as well as profit that comes with it in the end.
However, just as WordPress CMS is easy to install and to navigate the basic settings, it is also an EXTREMELY serious program, and working on it on more serious sites demands the work of a professional. From the design alone, the speed of the site, it's functions, SEO optimization to safety. All of these aspects are pretty complicated. In the end you are left with two options.
To arm yourself with patience and dedicate more or less of your free time in learning WordPress, PHP, HTML, CSS language, MySQL databases, advanced knowledge of the data protection system, and a lot of logic and mathematics.
You can find useful information on these sites
https://php.net/,
https://www.w3schools.com/,
https://wordpress.org/support/
Or…
Or you can hire a professional that's going to do all of that, create a fast, stable, secure and highly visited web page in WordPress for you.
In addition to several hundreds of WordPress sites I've made, I can help you build your website.